Veteran power forward talks about his new three-year deal
Charles Oakley Press Conference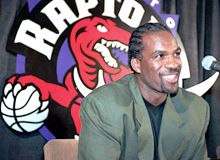 TORONTO, Aug. 31 — Welcome Back Oak! Amidst T-shirts and cake adorned with the phrase "Welcome Back Oak," Charles Oakley greeted and met with the media Tuesday afternoon in the Air Canada Centre's Platinum Club restaurant. Here's what he had to say:
Glen Grunwald: Charles Oakley, as you all know, has decided to re-sign with us and come back to Toronto. Las year the Toronto Raptors were the most improved team in the National Basketball Association and although no one person is responsible, the guy sitting to my right is one of the big reasons why we were so improved last year. I thought that if we were unable to re-sign Charles, then it would be a big loss for our franchise and that we would have suffered a step backwards in our franchise's history. That's why I am so glad that he agreed to return to Toronto and help us win basketball games. That's what he does and that's why we're glad to have him.
Charles Oakley: First of all I want say hello to all the fans, Toronto was great to me last year. Coming over here, I really didn't know what to expect, but I think the fans showed me a lot of love and welcomed me here with open arms. I was so proud of that last year. The teammates: Dee, Kevin, Vince, Doug, the veterans and Tracy, Alvin and watching those guys grow - I think Toronto really put a great team together. I think that Butch and Glen did a great job of bringing guys here who wanted to be here. I heard about the past, but I think last year - for a short season - everyone benefited. The organization here - moving to a new arena - had Vince - half-human, half-amazing and the Rookie of the Year - had a great year and really meant a lot to this franchise. He will be our spokesman for this team and I think a lot of the other guys will have to realize that. You never know what might happen in the future. I'm glad to be back. It's been a long wait, but everything is taken care of and now it's time to get back to business
Q: How close were you to going to another city?
Oakley: Like I told Toronto last year, I will always talk to them and give them the first chance to sign me. You always explore your options, you never know what will happen. I was exploring my options and talk to people and see what they will offer. This is a business and I think that they know and I know it is a business. To get better you have to go out and talk to people to get the best deal. I'm happy and I think that things happen like that. But it is all said and done, I'm back here and I'm getting ready for the season.
Q: Is the three-year term what was important for you rather than a one-year deal?
Oakley: Toronto is a team that is on the rise with Vince, Tracy, Antonio, Dell. Last year, we played well but with other veterans and younger guys with another year under their belt, the team should be a lot better.
Q: Are you surprised that more teams didn't make offers to you?
Oakley: Ten or twelve teams, I'm not that young but I do have a lot of respect around the league. Most of the playoff teams made a run and tried to talk to me for less. Teams were talking saying that they wanted to make trades, but I don't know because I determine trades. I was a free agent and I was willing to talk and see all the different options.
Q: After the contract negotiations that went on last season, are you happy now with the team and with Glen?
Oakley: One thing is during the season it's all about business, there should be no contract signing during the season. In the offseason , you can think about it, your mind is clearer and I wasn't ready to sign a contract during the season last year so now it is a different story.
Q: Now that you are locked in here for three years, are we going to see your car wash in Toronto?
Oakley: I talked to a couple guys last year about space for a car wash. I wouldn't mind doing one here but right now it's really about basketball. I have a car wash franchise already and if I had one here, it would be a bonus. Right now it's all about coming back here and getting this team into the playoffs.
Q: Is it a concern to you that your stats were down a bit last year?
Oakley: No, I don't play for stats. That would be like a golfer saying that I am going to shoot 80 and then shoot 100. You're going to be disappointed. You can't dictate what you are going to do night in and night out on the court. My thing is just to come in and try to make the team better and play with the guys. I didn't come here with an ego or a big head saying that I am a veteran and you're going to have to cater to me. I try to come in and cater to them and show that I am the type of guy that no matter where I go can make it work. I can make things easier, I can make the team better and I can bring something special to the team.
Q: Did the additions of Dell Curry and Antonio Davis factor in your decision?
Oakley: I told Dee, Vince and some guys last year that I wanted to come back and I promised them I would try my best to come back. I talked to those guys consistently. I think the guys last year were a good group of guys; we didn't have any problems and we all got along. Unfortunately we didn't make the playoffs, but I think we had the chance to do something special last year. Since we didn't do it last year, I hope everybody comes out with a positive attitude and know that what we left out there we would try to get to this year.
Q: What are your expectations for this team?
Oakley: I think that it is going to be a big year for Vince. Vince is really going to be the main talk of this team. I think the guys coming in are going to be a boost. The guys from last year should come in hungrier than the year before because they had a chance to go out and play and they've seen what the team can do on a consistent basis. If you are going to come out and play hard for the 48 minutes, you've got to know what can happen. Last year we put ourselves in a good position and some of them we lost, but we won a lot. You have to be proud of what happened last season.
Q: Do the other guys on this team agree that Vince is the guy?
Oakley: This is his team? Doesn't Toronto think this is his team? You're writing it in the paper - who's name comes up the most? Okay, just keeping it real. (laughs) Next?
Q: This is the first time you have been a free agent. How do you look back on it?
Oakley: The standard is that you are free but there are limitations where you want to go. I'm blessed to be in the league 14 years and I'm blessed to get a three-year deal so I'm going to make the best of my next three years.
Q: Is this your last contract?
Oakley: Not really if it is up to me. With Toronto, you will have to ask them.
Q: Was there anything from any other teams that made you take a second look?
Oakley: Some teams tried to make a big push at the end. I thought about it. I called Vince and Dee - Dee has one more year. Coming back here, I am still close to my family. They can take the limo in, watch the game and take the limo home. L.A. is too far away, San Antonio you have to take a boat to get to. (laughs) Miami has hurricanes. Sometimes you win and sometimes you lose, but can I think everything is okay right now and I am going to keep going forward.
Q: Do you see the team's style being the same as last year?
Oakley: Probably. I don't think it will change. Vince will get more plays. I think guys have to move into playing all the guys. Take a lot of shots because they're going to be double-teaming Vince and Dee and Dell Curry with their threes. So we have the opportunity to really shine next year. Instead of the sophomore jinx, I think we will have a really great year next season.
Q: What does the addition of Antonio as well as current Raptor John Thomas do to your game?
Oakley: Big bodies. Blocked shots. Run the court. They both play good defence. We have five big men, we've got some fouls to give and I'm going to tell them to give them.
Q: Do you think that the success that the team enjoyed last year made the Raptors sneak up on teams?
Oakley: I don't think that we snuck up on teams because we had to fly in, check in the hotel, go to shootaround, go to games, they knew we were in town. We have bodies and they have bodies. Our guys came together in our playing and you have to give Butch and Glen credit. I think that we have to work harder and realize that you have to work hard the whole season. I think we ran out of gas the last 15 games of the season. When the race is on, we fell back to the end of the race and hopefully this year we will be able to finish the race.
Q: Do you think your team has respect around the league?
Oakley: We don't hope they have respect, we're going to make them respect us.